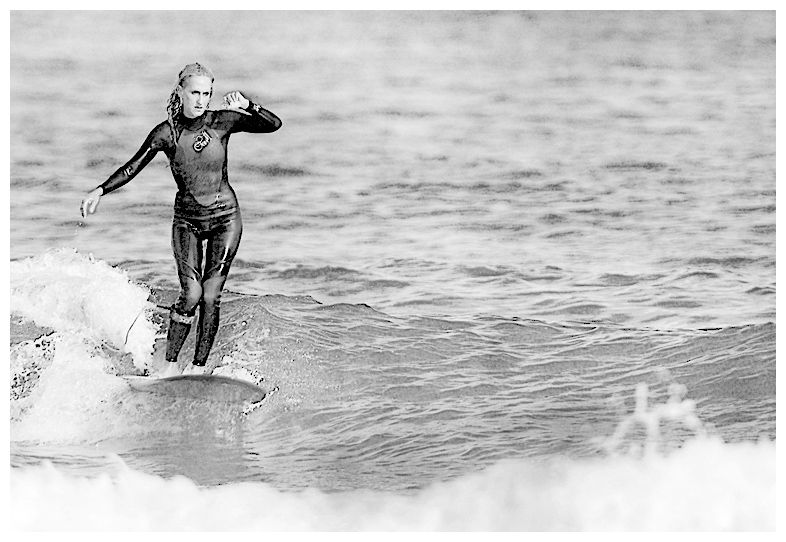 Naomi's list of subjects reads a bit like the Hollywood Walk of Fame, including stars like Sandra Bullock, Olivia Wilde, Jake Gyllenhaal , Meryl Streep, The Rolling Stones, Brad Pitt, and Tom Cruise. Whether a celebrity or model in front of her lens she has always been known for luminous images with an intuitively sexy feel.
Naomi was born in Manhattan and raised on Long Island to a family in love with all things art and all things ocean. She studied at NYU Film School and not long after graduating was booking portrait shoots for Interview Magazine. With an eye towards Europe and the editorial opportunities there she soon packed a bag and traveled to Paris to work and live abroad.
Italian Glamour and Manner Vogue gave Naomi her first assignments - ones that were to go on to define much of her early career - shooting celebrity covers with accompanying fashion spreads. Over the next 4 years, flying back and forth from Paris to NY and often to LA, she photographed a growing list of famous faces for Arena, British Esquire, German Marie Claire, British GQ, and others. She soon became a favorite for celebrity sittings on both coasts. More beauty and fashion work followed. She also started surfing.
Today Naomi is based in her native New York.
BOOKS:
"Crazy Sexy Cool " Vols.1 & 2
Published by Rolling Stone Magazine
"Four Inches"
Published by Scriptum Editions
"360 Sound: The Columbia Records Story"
Published by Chronicle Books
CELEBRITY SITTINGS:
Adrianne Palicki, Anna Paquin, Ali Larter, America Ferrara, Amy Grant, Andie MacDowell, Angelina Jolie, Anne Heche, Antonio Banderas, Ashanti, Audrey Tatou, Avril Lavigne, Ben Affleck, Brad Pitt, Brandon Lee, Bijou Phillips, Brooke Burke, Bruce Willis, Camilla Belle, Carrie Otis, Casey Affleck, Cassandra Wilson, Chloe Sevegni, Chris Evans, Christina Milian, Ciara, Claudia Schiffer, Claire Danes, Cybill Shepherd, Cynthia Nixon, Daryl Hannah, Diane Lane, Diana Ross, Donnie Wahlberg, Drea DeMateo, Dylan McDermott, Elle Macpherson, Emma Roberts, Faith Hill, Fergie, Fran Drescher, Gabriel Byrne, Gabrielle Union, Goldie Hawn, Gretchen Mol, Hayden Panettiere, Hilary Duff, Hilary Swank, Holly Hunter, Jaime Murray, Jake Gyllenhaal, Jenna Jameson, Jennifer Beals, Jennifer Hudson, Jeremy Irons, Jerry Ryan, Jesse Bradford, Joely Fisher, Jody Foster, Jordana Brewster, Jonathan Rhys Meyers, Julie Delpy, Juliet Binoche, Juliette Lewis, Kelly Preston, Kelly Ripa, Kevin Hart, Kim Cattrall, Liam Neeson, Lisa Kudrow, Lolita Dovidavich, Lucy Lawless, Lucy Liu, Maggie Grace, Marisa Tomei, Marlee Matlin, Marley Shelton, Mary Louis Parker, Mary J Blige, Masi Oka, Melanie Griffith, Meryl Streep, Michael Bolton, Michael Ealy, Maria Carey, Natalie Portman, Nicole Kidman, Neve Campbell, Nigella Lawson, Olivia Wilde, Padma Lakshmi, Paulina Porizkova, Paulina Rubio, Patricia Arquette, Paz Vega, Penelope Cruz, Peta Wilson, Peter Gallagher, Rachel Weisz, Rachael Lee Cook, Ray Liotta, Ricki Lake, Robyn, The Rolling Stones, Tom Cruise, Sadie Frost, Sandra Bullock, Sean Young, Selena Gomez, Sheryl Crow, Shirley MacLaine, Sophie Monk, Steve Buscemi, Taraji Henson, Taryn Manning, Tasha Smith, Taye Diggs, Taylor Swift, Thandie Newton, Valerie Bertinelli, Vanessa Williams, Vince Gill and more...
(To view images more from her archives please contact the studio or Getty.)
CLIENTS:
Abba Hair, Arena, Atlantic Records, Avon, Bare Escentuals, Brides, Bloomingdales, Blue Note, British GQ, British Sky Broadcasting, Cosmopolitan UK, Cosmopolitan Germany, Cosmopolitan por Latinas, Capitol Records, CVS, Debanhams, El Palacio de Hierro, Esquire USA, Esquire UK, Essence, Family Circle, Fitness, FHM, Glamour USA, Glamour Latin America, Glamour Italia, Gotham, Glo Professional, Health, Interview, Instyle, Jimmy Choo, JWT, Kohls, Latina, Lifetime, Manner Vogue, Marie Claire Germany, Marie Claire UK, French Max, Italian Max, Maxim, Men's Health, More, NuFace Beauty, Ocean Drive, People, Prevention, Proctor and Gamble, Psychologies, Publicis- Bluepoint, Ocean Drive, Red, Redbook, Rolling Stone, Select NY, Showtime, Sony Music, SpotCo, Standard Time, Sunsilk, TBWA/Chiat Day, Unilever, Universal, Vogue Homme, Warner Bros. and more...